Victim Of Modern Age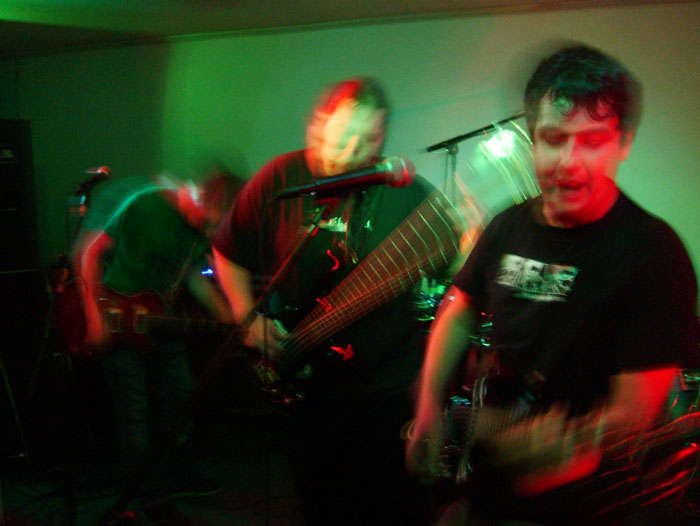 Members:
Bobby Nixon: Guitar, Vocals
Allen Clements: Guitar, Vocals
Jason Decou: Bass
David Leonard: Drums


After recording their first EP "Self-titled," the band was scooped up by Philadelphia Indie Label Universal Warning Records in 2001. The contract put them in touch with nationally spread label mates which opened up to several national tours. Similarly, this opportunity gave a seemingly wide distribution for their follow album through Revelation Records and the now merged Lumberjack Distribution. Around this time the group was joined by Allen Clements of Lafayette, LA based band "Claymore." Allen was to begin writing with the band immediately and help with booking tours.

A 2003 web bio mentioned that their music was of "independent expression and also draws from other musical stylings, including some massive jazz roots." Channels Like Capillaries was the band's second release on Universal Warning Records. During their 2003 recording sessions, the band worked closely with long time friend and engineer, Ivan Klisanin. The album includes piano interlude and layered vocals.
Throughout the years, the rhythm section was changed many times due originally to the vocationally related departure of bassist Nathan Carnes and soon following, Drummer Dan Robertson.

After many member changes followed by a several month hiatus, Singer/Guitarist Allen Clements decided to accept an offer of touring guitarist position for ex label-mates Sadaharu residing in Lancaster, Pennsylvania.

During their two year lifetime, Victim of Modern Age has performed with Benton Falls, Hey Mercedes, Liars Academy, Avec, We are Childhood Equals, Mae, Bright and Hollow Sky, Red Animal War, Jet By Day, Snakes and Music, Twothirtyeight, The Movie Life, Brand New, The North Atlantic, Brandston and many others. The band featured members from Ponder, Claymore, & One Common Voice.

After VOMA:
Bobby Nixon moved to Hot Springs, Arkansas with bandmates from his side-project "Ballistic Missile." There, the trio turned an old restaurant called "The Exchange" into a local music venue. With Trista and Zak, Bobby started the band "Attractive and Popular." Their band tours quite frequently and runs all ages shows out of "The Exchange" when home. The band eventually hooked up with GSL (Gold Standard Labs) label and in 2007 released their first national record entitled "Money Equals Magic." Bobbys new band was also able to establish a music festival in Hot Springs which is known as the Valley of the Vapors Festival.

After the loss of their third drummer, Allen Clements decided to move to Lancaster, Pennsylvania and take a position as touring guitarist in CI Records band "Sadaharu." After a few short tours, Allen called it quits, opened a video production company and still plays occasionally under the moniker, "A. Premise." and can also be found randomly at the occasional open-mic night.
Videos
Click here to add videos for this band
(popup)
Gallery
Click here to add photos to the gallery
(popup)










Download MP3s
Click to expand
Familiar with
Victim Of Modern Age
? Help us by telling us the years they were active,notifying us of band members and telling us any information you may know about the band.
Click Here
to help us out