Mystic Fix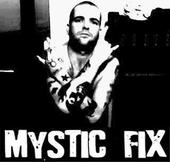 1993-2007
Mystic Fix was formed in 1993 (in Ville Platte, LA) out of the ashes of the hard rock/metal band King's Legion. Former KL drummer Chris Bennett had the itch to play punk rock and cut several home demos on a 4-track recorder.

After getting former bandmates James Valation and Tim Veillon on guitar and drums, the band recorded their first record. 'Mystic Fix' was released in Spring of 1994 and included 12 tracks of foul-mouthed metal-tinged punk. Later that same year Tim quit and was replaced by Mark Latour then Jimmi 'Jazz' Marcantel. Early the next year the band entered the studio to record their second record, 'Brutality'. That March they recorded 16 songs, which would make up half of the 'Punk Kollection' cassette. Shortly after Jimmi and James left. Chris had 10 songs he wanted to record, so he called up Tim to play drums on the tracks and help record them. Chris played guitar and bass on the recordings and future member Shane provided background vocals. Those 10 songs made up the other half of the 'Punk Kollection'. After that Jimmi came back, 'Shitty' Shane Guillotte joined on bass, and Chris moved to guitar.

1996 brought a new record and a new 'home' for the band (Lafayette). In January the band recorded the 'Fix The World' ep and proceeded to play tons of local gigs. The next year brought a new lineup and a new demo (the 'Nyamix' tape. which included 10 new songs and 4 older/previously released recordings). Shane and Jimmi had quit and were replaced with brothers Bryan and Ryan Schultz (on drums and guitar), which put Chris back on bass. Shane came back and the band became a 4 piece. Later that year the brothers quit and Cody Stafford joined on drums. With this lineup, the band was scheduled to record their new record with a drummer who had never really played drums before. After a little practice and a lot of alcohol, the band cut the infamous 'Drunk On Arrival' record. That summer they (along with other local bands AdD and Moon Fly Syrup) played shows every week for the next few months at a hole in the wall bar in Mamou, LA (Judy's Lounge). After a few 'Judy's' shows Cody was incarcerated. Drum duties were handled by Mark Medlin from AdD (Sept.-Nov.) and Luke Guidry from the Pickups (throughout 1999). One 'recording' exists of the Chris/Shane/Mark lineup, the 'Live At Judy's' tape. There were only a handful made. That Dec. AdD took Mystic Fix along for a show with the Vomit Spots in Mobile, AL. That trip was nuts.

1999 brought the 'I'm Surrounded By Idiots' cassette. Shane left and Chris Wyble (ex-AdD, Moon Fly Syrup) took over on bass. That summer they ventured out to FL on a mini-tour. Chris and Luke left later that year and Cody returned. 2000 brought the 'Perverts, Boozers, And Graverobbers From Outer Space' record. It was recorded with only Cody and Chris, who had laryngitis. Cutty Miller (ex-Detrimentz, among others) joined on bass soon after the record was released. Later that year Cutty left. Cody took up bass, Jason Lambert (ex-Sores) joined on drums, and Luke came back to play second guitar. Jason quit soon after leaving Cody and Luke to rotate between drums and bass. Chris broke up the band (for the first time) in 2001. He then joined Southern Discomfort (which included Luke on drums) and recorded a solo record ('Taurus Attraction'). After Southern Discomfort fizzed out after only a few months, Chris reformed Mystic Fix (with Cutty on bass) and played a few shows. Justin (ex-PG-13, future Amazing Nuns) played drums for one show and Mac Black (ex-Stab Sassy, future La Phantoms) played the other 2 shows.

After 8 years and too many beers, Chris broke up Mystic Fix in 2002. He then started the La Phantoms with Luke and Mac.

Fast forward a few years : Mark started picking Chris' brain in Oct. 2005 about getting MF back together. The band (Chris on bass/vocals, James on guitar, Mark on drums) had its first practice 2/25/06. Chris had a new batch of Fix material that he wanted to record ASAP, which he did. The 'Soberphobic' album was recorded in his bedroom in one day. Chris played all instruments (with help from James on a couple songs). The band made it's return at Toy's Music Center a couple months later. Shane came back on bass which let Chris focus on just singing. The band played shows throughout 2006 and early 2007 (12 total), bringing out of state/country bands to the Lafayette area. In March/April of 2007 Chris (on both vocals and drums), Shane, and James recorded 6 new demos that would've made it on the next record. The band played its last show on May 26, 2007 at Buck Nutty's Skatepark.

On June 11, 2007 frontman/founder Chris Bennett passed away in his sleep at the age of 33. As Chris was the heart and soul of the band, Mystic Fix went with him. Thanks to a lot of great people, a few benefit shows were set up for him. He left behind one son, a lot of friends & family, great music, and a seat that will never be filled.
Videos
Click here to add videos for this band
(popup)
Gallery
Click here to add photos to the gallery
(popup)





















































Download MP3s
Click to expand
Familiar with
Mystic Fix
? Help us by notifying us of band members and telling us any information you may know about the band.
Click Here
to help us out