Antarctica vs The World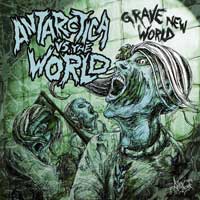 2000-2006
Antarctica vs. the World started in 2000 in the city of New Orleans as the brainchild of Cos Solo and Dreux Ghoul. Obsessed with horror movies and punk rock, the duo decided to form a project that would encompass both interests. AVW was born. With Cos on vocals and Dreux on bass, AVW acquired Billy Bones on drums. The problem they immediately faced was a rotating cast of guitar players. After playing several shows eventually a very young Kevin Dredge was recruited to the cause, and the first serious version of AVW was solidified. After a couple of years of playing with only local recognition, Dreux was involved in an accident that prevented him from playing in several booked shows. Karla Devil of the picts was asked to fill in for a short time, and eventually Greg Dreadfull took over bass duties full time. This version of AVW continued to pick up steam, but eventually Greg too would move on. At this time Karla was asked to come back as a permanent member. This was opportune for her as her full-time band, The Picts, was currently without a drummer. Kevin has also been playing guitar for The Picts, and a tight well-oiled machine had been formed in the way of a trio consisting of himself, Karla, and the singer/lead guitarist for The Picts, Jim.
Videos
Click here to add videos for this band
(popup)
Gallery
Click here to add photos to the gallery
(popup)





Download MP3s
Click to expand
Familiar with
Antarctica vs The World
? Help us by notifying us of band members and telling us any information you may know about the band.
Click Here
to help us out