Odd Arnie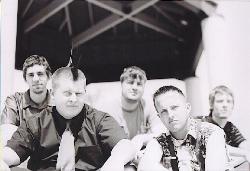 2001-2004
Members:
Kris Clavier - Vocals, Guitar
Brett Livaudais - Guitar, Bass
Ryan Fontenot - Drums
Ryan Twilley - Trombone
Kyle Newman - Saxophone
Andrew Alderman - Trumpet, Bass
Patrick Flanagan - Vocals, Bass
Ben Labit - Trombone

Patrick Flanagan & Brett Livaudais first started playing together in 2000 under the name 'Buster Hymen'. After a few months, they teamed up with Allen Clements and formed Claymore, however they left shortly after. Around the time of Buster Hymen's first (and only?) show, Patrick met Kris Clavier on the campus of UL Lafayette. After their departure from Claymore, Patrick & Brett teamed up with Kris and Patrick's childhood friend, Ryan Fontenot, to form the first incarnation of Odd Arnie in early 2001. They would play under this line-up for several months.

Later that year, Odd Arnie added a horn section with members Ryan Twilley, Ben Labit and Andrew Alderman. After a few shows, Ben left the band to focus on school. A few months later, the band recorded a 7-song demo with Ivan Klisanin. In early 2002, a dispute between members led to Patrick leaving the band. Kris took over lead vocals, and Brett moved from guitar to bass.

Sometime in late 2002, the band wanted to add a new instrument to the horn section -- enter Kyle Newman. The band would play under this line-up for some time, save for a couple of months where Brett lived in California and Andrew took over bass duties. During this time, Odd Arnie recorded the 3-song "Penis de Milo" EP, and later, their full length "Stating the Oddvious", both with Ivan. Not long after releasing their full-length, the band decided to part ways with Andrew. They would play under this line-up until calling it quits in late 2004.

During their height, the members of Odd Arnie played several shows a week across Louisiana -- one night alone, the band played three separate venues around Lafayette. They had the privilege of sharing the stage with many of the bands listed on this site, as well as larger acts, such as: Leftover Crack, Streetlight Manifesto, Big D and the Kids Table, Fallout Boy, Hudson Falcons, Madcap, Ruth's Hat, and The Arrogant Sons of Bitches, among others.
Videos
Click here to add videos for this band
(popup)
Gallery
Click here to add photos to the gallery
(popup)







































Download MP3s
Click to expand
Familiar with
Odd Arnie
? Help us by notifying us of band members and telling us any information you may know about the band.
Click Here
to help us out